By: Ignatius Mvula and Remmie Kamanga
The Education Department of the Diocese of Karonga administered preliminary examinations for entry to form one for the academic year 2018/19 in Catholic secondary schools in the Diocese.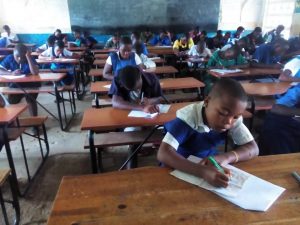 The examinations were prepared by the department and administered in all parishes at zone level under the coordination of Methodology Advisors who are education officers in the parishes. The examination took place on Saturday 13th January, 2018 and drew over 700 learners in all the 9 parishes of the Diocese.
The paper was a blend of various subjects like Mathematics, English, Religious Education and General Studies. The successful candidates at pastoral zone level will the sit for another examination which will be at parish level then will take a final paper at national level. This is a formal process of selecting learners to start Form One 1 in Catholic secondary schools.
The process is very important as it is so far the best criterion for identifying deserving learners to start secondary education. Candidates sitting for these examinations prepare very well with the assistance of teachers, hence, the stiff competition to secure a place at secondary school.
Catholic secondary schools are renowned for their excellence in holistic education which takes care of academic, spiritual, physical and moral growth of a child. This is why every parent would want his or her ward to go to a Catholic school. Many learners too vie for these schools to attain sound education.
Karonga Diocese boasts of Chaminade Secondary School, Kaseye Girls Secondary School, St Ignatius Loyola Secondary School and also St Monica Community Day Secondary School, Ngara Community Day Secondary School, St Anne's Community Day Secondary school and Fulirwa Community Day Secondary School. Chaminade Secondary School, for example, has taught so many boys who are now in great leadership positions in Malawi.