By Philip Chisi
Bishop Martin Anwel Mtumbuka of the Diocese of Karonga has exhorted Catholic faithful to live their faith.  In his homily on 25th December at Ntchowo Prayer Center under St Mary's Parish, the Bishop asked Christians to demonstrate publicly what they do in private.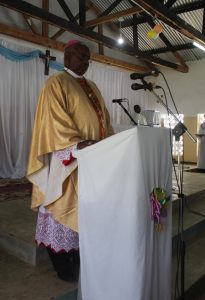 "A Christian must be stable and must show consistency in all they do. You don't have to be a Christian in public and a devil's follower in private. We do not have to be like the Jews, who in public were always looking for, and waiting for, the Messiah. But when Mary and Joseph knocked on the door they individually denied them accommodation to the extent that the long awaited king was born in a manger," said the Bishop.
The Bishop further encouraged Christian not to take for granted the grace of God that has made us see and witness this year's Christmas.
"Many friends and relatives of ours wanted to see this day but have not seen it. They wanted to celebrate this Mass with us but have not made it to this day. It's not that we are cleverer than them, but rather it is because God himself with His grace has willed that we see this day," said the Bishop.
He also thanked the congregation for their support to the church and appreciated all the gifts that they gave to him.
"I really appreciate from deep down my heart for all the assorted gifts you have brought be for me. I want you to know that I do not take them for granted, but I rather receive them with joy and appreciation," said the Bishop.
In his speech, Parish Priest for St Mary's Parish, Fr. Joseph Sikwese thanked the bishop for choosing to celebrate Christmas Mass at Ntchowo. He also thanked the faithful for their unique community cooperation, a thing that has made the zone one of the remarkable zones in the diocese.
He further encouraged them to remain united and faithful to the call of the church. He also appealed to them to continue supporting one another in times of need.
Ntchowo Zone is one of the three zones (others are St Mary's and Lughali) that make up St Mary's Parish. It has a population of over 5000 Catholic faithful.
The zone is well known for its dedication to the Catholic values and came into the limelight when St Bartholomew Choir from the zone emerged champions of the 2017-2018 Diocesan Choral Competition under the theme "Our Small Christian Community".