By Philip Chisi
Bishop Martin Anwel Mtumbuka of Karonga Diocese has granted Caroline Banda, one of the Sunday school children at St Mary's Parish, a place at St Mary's Karonga Girls Secondary School.
Speaking at St Mary's Parish on the Solemnity of Mary Mother of God, which falls on 1st January, the Bishop said he was touched to hear that an innocent and dedicated girl like Caroline is out of school as a result of controversy over Satanism which led to indefinite closure of her school.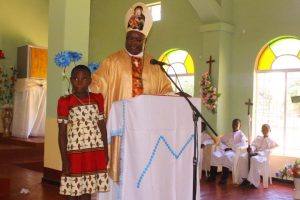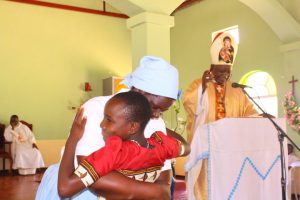 The Bishop further warned all the students in Catholic schools under the Diocese that it is unacceptable to propagate issues of Satanism in Catholic schools and a heavy punishment would follow perpetrators.
In his address to students from Catholic schools in the Diocese at St Mary's Girls Secondary School of the First Sunday of Advent, the declared that it is a punishable offence to claim that one is under the influence of the devil in Catholic schools. He said such students will be sent back home pending recovery and no remedial classes will be offered to them.
During the meeting with students, the Bishop urged students to be patient and hopeful amidst the challenges they face in life. He attributed incidences attributed to Satanism as the failure on the part of students to cope with the pressures they encounter in school without proper counselling, guidance and support.
During the same event, the Bishop hailed the role played by Mr Nyondo the Catechist at St Mary's Parish and those who play a similar role in other Catholic schools for bringing the right balance in the lives of children by looking into the spiritual and psychological needs of students.
Caroline Banda is one of the Sunday school children at St Mary's Parish. She plays a leading role in the Sunday School Choir of the parish and is a member of the popular Tuntufye Sunday School Choir.
She was selected to go at Karonga Girls Secondary School which has been closed due to the Satanism controversy at the school.