By Phillip Chisi
Bishop Martin Anwel Mtumbuka of the Diocese of Karonga, on 17th October, officially welcomed the congregation of Missionaries of St Francis de Sales to the Diocese of Karonga at the function which took place at St Mary's Parish in Karonga.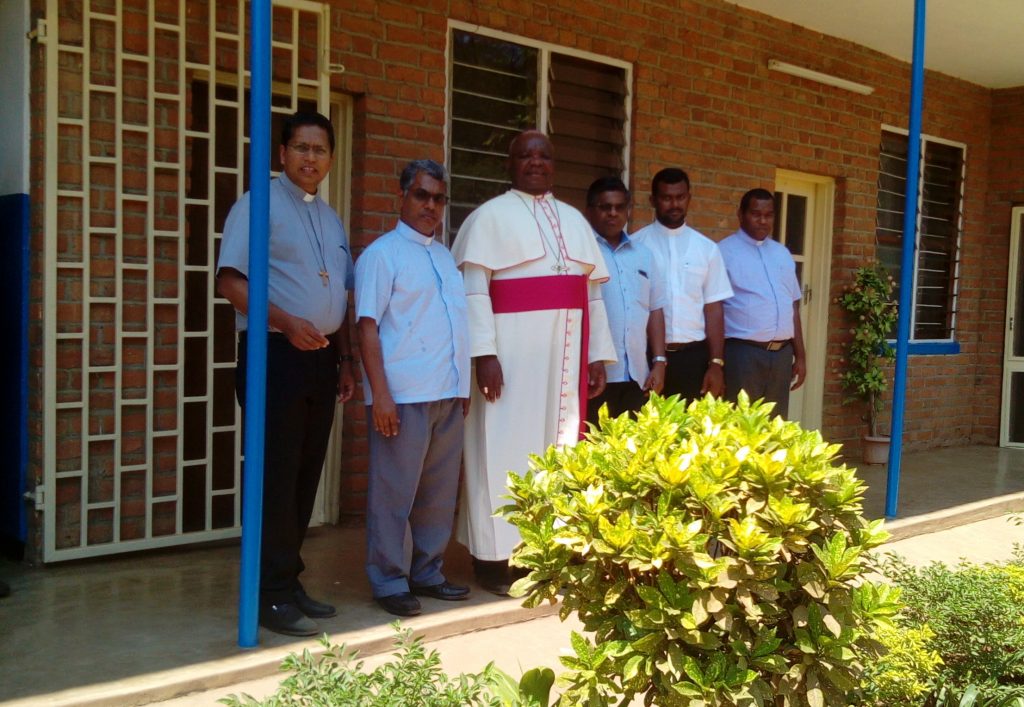 During the same function, the Bishop welcomed the first three missionary priests of the congregation who are set to continue their missionary work at Livingstonia Parish (which has just been dedicated to the intercession of St Francis de Sales). The three are Fathers Joseph MSFS, Nelson MSFS and Anathargy MSFS, all from India.
The three were accompanied to Karonga by the Provincial Superior for South East India, Father Ignaci Muthu MSFS and the Provincial for Eastern Africa, Father Matthews MSFS. Speaking during the function, Father Matthews said they were very grateful for the opportunity to establish their mission in Karonga, Malawi.
"As a congregation, we are very much grateful for the invitation to come and serve the people of God in Malawi under the guidance and leadership of Bishop Martin Mtumbuka. We sincerely thank the Bishop for inviting us to serve in the diocese," said Father Matthews.
In his remarks, Bishop Mtumbuka thanked the Missionaries of St Francis De Sales for responding positively to the invitation to serve in the diocese. Addressing the three priests, the Bishop said they now belong to the family of the Diocese of Karonga and that they are free to visit every part, and institution, of the diocese.
The Bishop urged all the Catholic faithful to support the news priests in every way possible so that they serve with ease. He further assured the delegates that accompanied the priests that, the safety and wellbeing of the three missionary priests if his priority.
The welcoming ceremony at St Mary's Parish was graced by Christians from St Mary's Parish,  representatives from Livingstonia and a number of priest including the Vicar General Monsignor Denis Chitete, the Parish Priest for St Mary's Parish Fr. Joseph Sikwese, Fr. Dziko from St Steven's, Fr. Ngoma from St Anne's, Fr Silwamba and Fr. Mwale.
Before the three priests begin their missionary work at St Francis De Sales Parish, they will be at St Mary's Parish to learn and get familiarized with Tumbuka language, which is the ordinary language used during the Mass in the diocese. They will later be sent to various parishes to get accustomed with the people of Karonga.
A team of Missionaries of St Francis de Sales, led by Father Ignaci Muthu MSFC, visited Karonga Diocese early this year to assess the prospects of establishing a mission in Malawi. The former Provincial for Eastern Africa Province, Father Johnson Kallidukil MSFS, initiated contact with the Diocese of Karonga in 2012.