By Stephano Nkhata
The Board of Directors for Chipunga Farm Limited held their first meeting on 14th January where among other things, they elected office bearers. This meeting followed the official handover of the farm earlier this month.
Bishop Martin Anwel Mtumbuka of the Diocese of Karonga appointed the Board of Directors to play an advisory role in the management of the farm.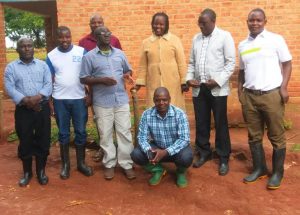 Mr Bob Jere, a lecture in Aquaculture at Mzuzu University, who had earlier been appointed Interim Chairperson chaired the meeting. During the meeting, the Board members confirmed Mr Bob Jere as Chairperson of the Board.
In the absence of the Executive Director, Mr Stephano Nkhata, Resource Mobilisation Officer, was confirmed as Secretary of the Board. The allocation of Board members into different positions was based on experience and field of specialization.
In his acceptance speech, Mr Jere expressed gratitude to the board members for entrusting him with the task. He promised to together with the members and Diocese as a whole to achieve the mission of the Diocese of Karonga.
The chairperson also thanked Bishop Mtumbuka for the best composition of the Board.
"The Board members are people of dynamic skills and expertise which is very advantageous to the smooth running of the farm," He said.
Other members to the Board include: Mr Paul Guta, Business Administrator for Nedbank Malawi; Mr John Gift Mwakhwawa, Lawyer; Mr Ben Longwe and Mr Clement Mwale, Engineers; Mr Alfred Longwe and Stephano Nkhata, Marketers; Madam Kefasi Chawinga, Land Management specialist.
The board has also ex officials who will help a lot in the development of the farm. Among the ex-official members is Mr Daniel Zimba who has a vast experience in the growing and production of Coffee. Other ex-official members are Father Cecilio Silwamba, Director of Finance, Investment and Administration; Mr Mwawi Shaba, Caritas Secretary; Mr Franklin Msiska, Development Desk Officer.