By Gibson Ngwira
Communities in Traditional Authority (T/A) Mwenemisuku have expressed happiness for the vocational skills training for the youths at Chipwela being implemented by the Development Desk of the Diocese of Karonga in the area.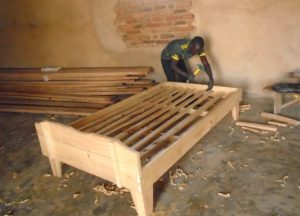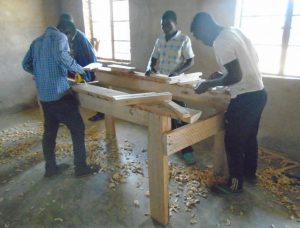 Speaking on behalf of the communities, Senior Group Village Headman Mwenechipwela in Misuku, Manuel Msukwa, applauded the initiative as a welcome development especially coming at a time like this when the youths are staying idle and jobless.
He said that this is one of the many projects implemented by the Development Desk of the Diocese of Karonga in the T/A Mwenemisuku.
"This is very good and is in line with youth empowerment programmes", he pointed out. "This is very significant for the economic empowerment of the youth as they will be able to do businesses on their own."
He continued to say that the youth could not travel long distances to Lufita, Kasama and Misuku centers where the trainings were taking place. He thanked the desk from bringing skills training to the area meaning they will be accessible.
GVH Mwenechipwela said the youth in Malawi, including those in Mwenemisuku, need to be empowered through several vocational skills training chosen by the youths themselves so that they contribute positively to the social and economic development of the country.
"We need (as community members) to embrace the concept of vocational skills training being implemented by the Development Desk of the Diocese of Karonga so that youths are trained within the project implementation period," he said.
Secretary for the skills training center committee, Kiddy Kayuni, said that they will take every step and strategy to ensure effective implementation of the trainings in the impact area.
"As a committee, we have the capacity to help the instructors and the 40 students registered at the center to carry out their work accordingly. We will build support, persuade and collaborate with the Development Desk of the Diocese of Karonga with programmes that can help people in different areas," said Kayuni.
The Development Desk of the Diocese of Karonga is implementing a three year project called "Integrated Rural Development." The project is being implemented in one the area of one Traditional Authority in Karonga and three T/As in Chitipa, including Mwenemisuku with support from Misereor in Germany.
Among the four objectives, the project will make sure that 160 youths, between the ages of 18 and 35, have undergone informal vocational skills training in carpentry, tailoring and bricklaying.