By Franklin Msiska (Development Desk Officer)
The Development Desk in collaboration with the Government Crops, Land Resource and Extension Departments has mounted 94 demonstrations to increase adoption of Climate Smart Agricultural (CSAs) practices under Karonga Diocese's Integrated Rural Development Project.
Targeting 2,400 smallholder farmers, the project is implemented in Traditional Authorities Mwawulambia, Mwenemisuku and Mwenewenya in Chitipa District and Traditional Authority Kyungu in Karonga District.
This three-year project will help small scale farmers have increased annual agricultural production. In order to adapt to climate change effects small scale farmers are being trained to adopt sustainable agricultural practices which will help them increase yields even when they face extreme weather conditions such as drought during the production season.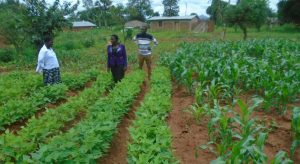 Key CSA practices promoted under the project are: planting pits, mixed cropping, use of manure, conservation agriculture (soil cover), crop rotation, agroforestry, and erosion control. The project is using the same demonstration plots also to promote technologies that would minimize the impact of climate change like drought, increased incidences of pest and disease outbreaks etc. These technologies are early maturing, disease resistance, and high yielding varieties in maize, soya beans, pigeon peas, cow peas, and sugar beans.
The demonstration plots are being used to train farmers on how they can use integrated pest management to address the current issue of fall army worms which is also largely connected to the issue of climate change.
The demonstration will also act as trials where these practices will be rotated in 8 plots per site for three years so that farmers can witness the changes taking place in each plot as a result of implementing the practices promoted by the project.
At the end of the project, which is funded by Misereor Germany, at least 65% of the targeted small scale farmers are expected to adopt and continue practicing at least three of the promoted CSA practices.