By Vincent Shaba (Health Desk Officer)
Interplast, a team of German specialist doctors, arrived in Malawi on 13th January, 2018 to provide free surgery to people with different conditions including facial malformation. Dr. Shidelko, the team leader, and his team will start assisting patients on the Monday, 15 January, at Chitipa District Hospital.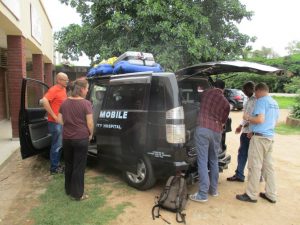 In this first visit of the year, the specialists will assist people with a number of conditions including facial malformations, cleft lips and palates, malformation of hands, extensive burn scars, tumours located on head and skin, disabilities due to accidents, wound or other diseases which require the skills of plastic surgery.
All patients with related conditions are advised to go to nearest health facilities to be assessed and referred to Chitipa District Hospital when necessary. At Chitipa District Hospital, assessment of patients is done jointly by Interplast Team and Malawian clinicians. The joint assessment serves a twofold purpose for local clinicians; they help in language translation and it is also a learning experience for them.
A second team from Interplast that operates on goiters will arrive at Chitipa district Hospital on the 23rd of February, 2018. They will spend two weeks.
The team members started visiting Malawi, and specifically Karonga Diocese, in February, 2016 upon the request from his Lordship, Bishop M. Mtumbuka during one of his visits to Germany.
Since the initial team's visit, there have been more than eight teams coming to Karonga Diocese at different times of the year and have since assisted more than a hundred patients.
Generally, the teams appreciate the friendliness of people in Malawi and are geared to assist those with orthopedic problems. However, they also observe a couple of challenges practicing orthopedic in Malawi including inadequate human and material resources from the previous visits.
Interplast, is an association of Orthopedic Surgical Specialist from Germany that provides plastic surgery free of charge to people in developing countries. The objective of Interplast is to integrate people with malformation back into the society.