By Lino Nyirenda*
The Pastoral Team of St Ignatius Parish has urged the Local Church Committees to embrace the Sunday School project fully if they are to build a strong future Church.
The Parish Priest and Curate of St Ignatius Parish Father Matthews Simwela, and Father Anthony Mwafulirwa carried this common message on Sunday, 29 September, when they administered baptism and first communion at Nthalire and Mwenje outstation centres respectively.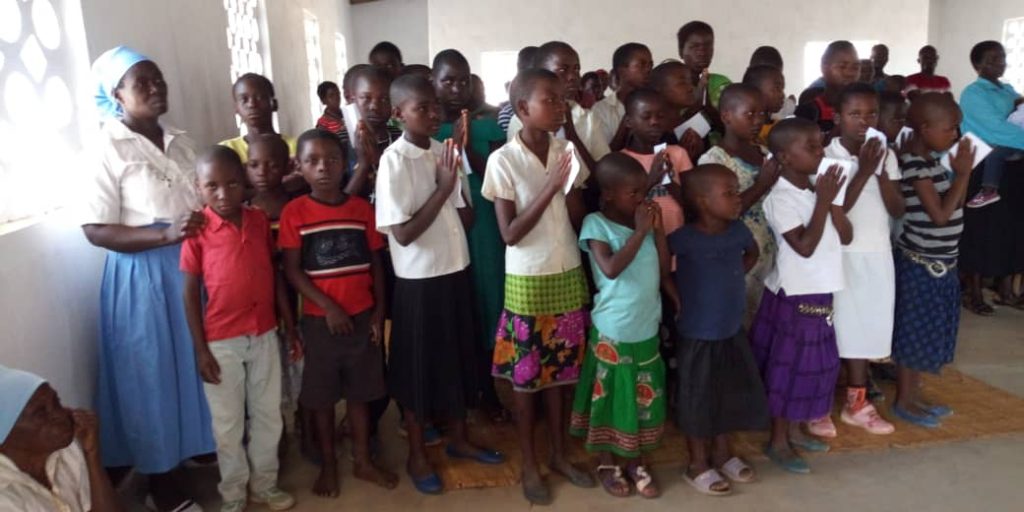 Thirty infants (ten boys and twenty girls) received baptism at Mwenje while seven infants (five boys and two girls) received baptism at Nthalire. Twenty-seven Junior Sunday School children (nine boys and 18 girls) received baptism and First Communion at Mwenje.
Nine of the Junior Sunday School children come from non-Catholic families and have been encouraged by their parents to join Catholicism because of well-grounded and structured Sunday School project. Their parents were present during the ceremony.
Father Mwafulirwa, who examined the children prior to the ceremony, expressed satisfaction in the way they responded to questions an indication that Sunday School Instructors are committed to forming them into strong Catholics.
It has also been observed that Likuni Phala, which is provided when there are instructions, continues to help maintain high numbers of Junior Sunday School children attending instructions as well as liturgy.
Although the Sunday School project is registering successes, one of the notable challenges is late registration of children for baptism, which is attributed to among other thing tithes and fees which are part of the requirements.
The Pastoral Team urged Small Christian Communities and Local Church Committees (LCCs) to be more committed to the faith formation of their children by among other things coordinating well the preparation of porridge for children; identifying potential instructors from Small Christian Communities; continuous training of instructors and encouraging children to be agents of evangelisation to fellow children.
The Sunday School project is being implemented by the Pastoral Commission of the Diocese of Karonga with financial support from the Coppell Family of Mexico.
*Lino Nyirenda is Catechetical Methodology Advisor for St Ignatius Parish