By Chimwemwe Chisi
As one way of enhancing production and presentation of high quality programmes, Tuntufye FM Radio of the Diocese of Karonga held a staff annual seminar aimed at drilling presenters and producers with skills, knowledge and attitudes necessary for effective delivery.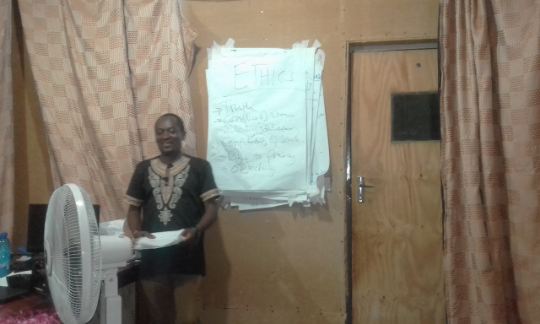 The development has come following this year's annual seminar the religious media institution held on 22 December with its team members within its premises which was facilitated by Malawi Broadcast Corporation (MBC) Journalist Mr. Harnet Msukwa.
This year's seminar which was hinged on radio production and tackled topics such as how a journalist can develop a good script, becoming an excellent producer, how to research and generate good topics for programs among others.
Speaking in an interview after a daylong meeting, Msukwa described the workshop as of great importance to the institution saying it will help TFM presenters and producers to elevate performance of duties and hailed the commitment of participants.
"I am delighted with the way Tuntufye FM members have patronized this function and I believe that they have grasped one or two things having attended the seminar. This has been such a great opportunity for them and am happy for their warm hearted hospitality," said Msukwa.
He went on to say that it is his great belief that journalists from this religious institution will live to perform tremendously with ideas drawn from this intervention.
One of the participants Angela Mtambo said the seminar will really assist her in the discharge of her daily duties as a radio presenter since she has learnt new things from the lessons she just attended.
"I have learnt a lot from today's seminar and I have come to realize how crucial the script is for the radio presenter and how it is supposed to be written. I would recommend that such kind of initiatives should be happening regularly," said Mtambo.
Meanwhile, this year's seminar was patronized by 16 participants.