By Vincent Bwinga
The Chairperson for Community Action Group (CAG) from Senior Traditional Authority Wasambo, Tamika Mtawali, has called on fellow members to truly work without expecting monetary gains (spirit of volunteerism) if they are to successfully contribute to transparency and accountability in management of development resources in their area.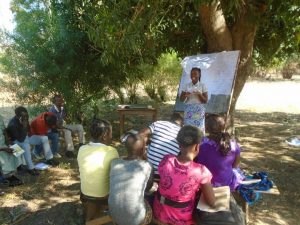 Tamika said this on 13 September, 2018 during the training workshop at Wasambo Hall organized by Justice and Peace Desk of Karonga Diocese on Citizen Action In local government Accountability Project. The project is being implemented with funding from Irish government through Danish Church Aid.
Speaking during the meeting, Tamika Mtawali said that efforts for organizations like Justice and Peace fail because people who are identified on the ground look to what they can benefit from the project individually. He urged them to consider what our area has lost before this project.
"We have learnt a lot about the local development resources and the role that we should play in making sure that development activities are well participated by the communities in a transparent and accountable manner. Our duty bearers have not taken deliberate efforts to provide information because they wanted the community to stay blind and continue mismanaging public fund," said Tamika.
Further commenting on the training Tamika said, many communities beg for development projects instead of demanding because they don't realize that it is their right. She commended the Right Based Approach to Development topic and said it relieved them from fear to demand for development activities as their right and hold duty bearers accountable.
After the training, CAG members geared up to take an active role in tracking the allocation and utilization of local development activities taking place in their area realizing what they lost due to limited knowledge and fear among community members.
Tamika Mtawali is one of the few confident young women engaged by the project to be entrusted with the responsibility of leading the Community Action Group