By Moses Raymond Kamanga
Scores of people, most of whom Catholic Christians gathered at St. Marys Parish on Wednesday, 7 March to bid farewell to Luciana Mweghama who until her death was the Diocesan Chairperson of Chitemwano (Charity); one of the most powerful lay movements in the Diocese. On Tuesday 6 March, 2018, the Diocese woke up to the sad news of the demise of Luciana who breathed her last during the late hours of Monday 5 March.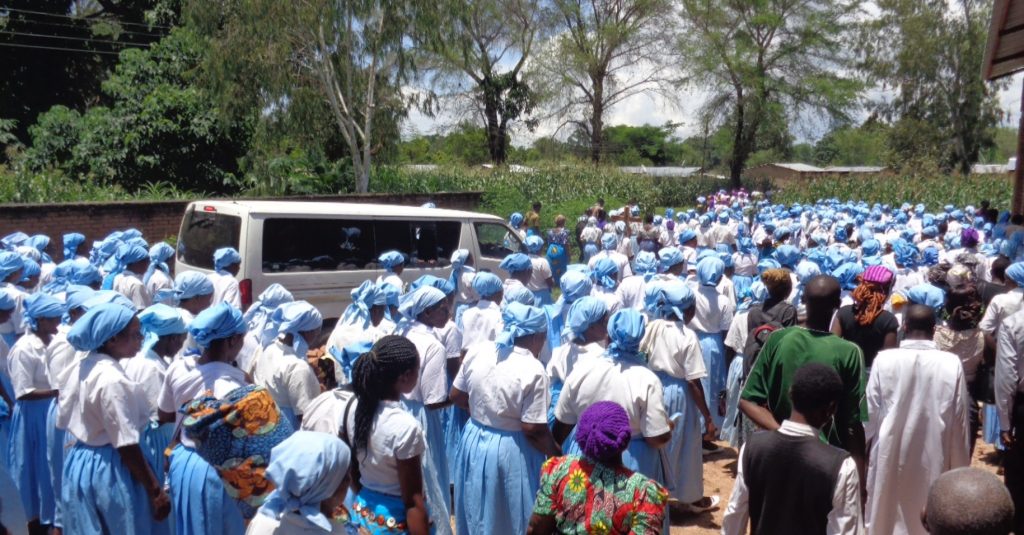 Speaking to a cross section of people that gathered to pay their last respect, mostly women adorned in the Chitemwano regalia (light blue skirts and head gear with white blouses and shoes), Hellena Mhango described Luciana as one who led the women group by example.
Mhango (one of the group's technical committee members at Diocese level) couldn't hold back her tears and shock describing Luciana as one example of the rare breed of Catholic Christians who lived their faith. These remarks came after the Bishop of the Diocese, Rt. Rev. Martin Anwel Mtumbuka had already decorated Luciana's Christian life as that which found joy in being a Catholic.
Before she was laid to rest, the Vicar General of the Diocese of Karonga Monsignor Denis Chitete led hundreds of Catholic Christians in the Holy Mass to pray for the repose of Luciana's Soul.
In his homily, Father Lorent Dziko the Diocesan Lay Movements Chaplain envied Luciana's death.
"She died in full communion with God. She had a chance to reconcile with God through the Sacrament of Reconciliation, a chance which most of us may not have," said Father Dziko.
Luciana who was born in 1968 is survived with a husband and six children. By God's grace one of her sons (God willing) will be ordained Deacon in May this year.
Luciana successfully led the Chitemwano lay movement which has around 8000 members in the Diocese of Karonga.