By Phillip Chisi
Bishop Martin Anwel Mtumbuka of the Diocese of Karonga has urged Junior Sunday School children to be instruments of peace in their homes and communities.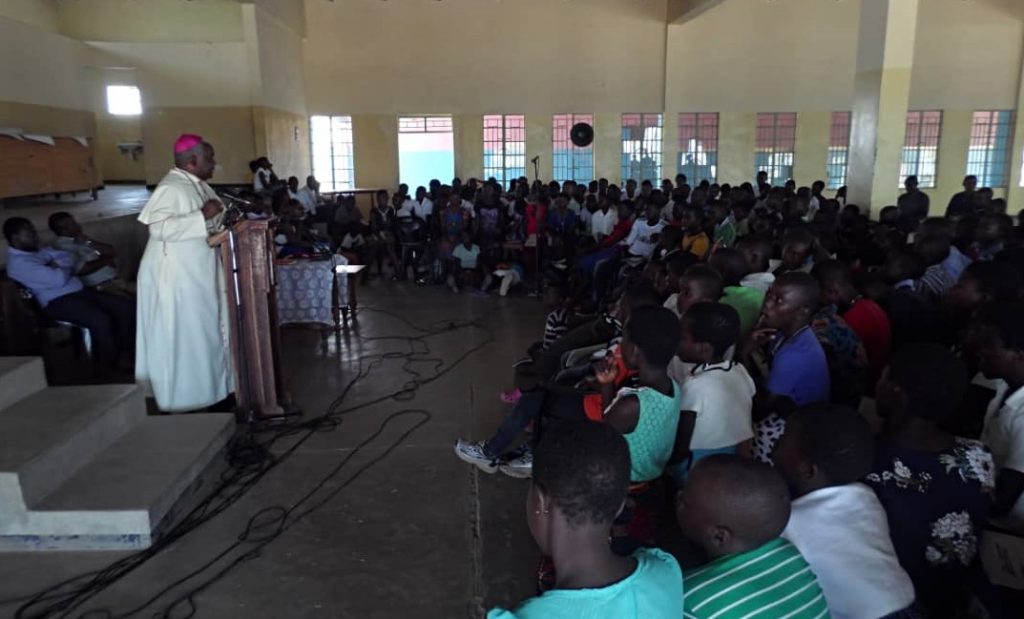 Bishop Mtumbuka said this on Sunday at St Mary's Karonga Girls Secondary School when he interacted with over 260 children from all corners of the Diocese at this year's Diocesan Junior Sunday School Rally.
The Bishop stressed that children have a bigger role to play in the promotion of peace. He further assured the children that the Church will continue to teach to be instruments of peace and on ways of resolving conflicts among themselves among themselves or among those they know.
In the same vein, the Bishop has declared, effective 26th August, 2018, children should be singing or reciting Franciscan Prayer of Peace in their Mass between communion and thanksgiving hymn across the Diocese. The Bishop further asked the children to emulate St Francis' desire for peace.
The rally was held under the theme, "Children the Instruments of Peace". The aim of the rally was to give children a platform to share their experiences including their challenges from spiritual and social aspects. Both the Pastoral and Caritas commissions were involved in facilitating the discussion.
Bishop Mtumbuka further assured the young ones that he will attend to the issues they raised during the meeting. Some of the issues presented ranges from inadequate schools and teachers, gender based violence in their families and communities which affect their wellbeing, and many more.
The children also expressed experience with the work of the different arms of the Diocese, most especially, the Justice and Peace Desk and Tuntufye FM Radio.
The Bishop further thanked all the Sunday school instructors for taking care of the children and urged them to work with humility and persistence.
The Vicar General of the Diocese of Karonga Monsignor Denis Chitete led the opening Mass of Saturday the 25th of August. The Bishop presided over the closing Mass on Sunday evening.
In Karonga Diocese Junior Sunday school consist of children aged between six and fourteen.